Get ready for 2024 CoopsDay on 6 July!

In the context of the UN High-Level Political Forum on Sustainable Development (HLPF), the Committee for the Promotion and Advancement of Cooperatives (COPAC) celebrated the International Day of Cooperatives with a Voluntary National Review Lab (VNR-Lab) on 11 July 2023 at the UN headquarters in New York. The event allowed countries that include cooperatives in their voluntary national presentations to exchange experiences with participants, including cooperators, for mutual learning and to have a deeper discussion on supporting cooperatives as sustainable and successful enterprises that are vehicles for achieving the Sustainable Development Goals (SDGs).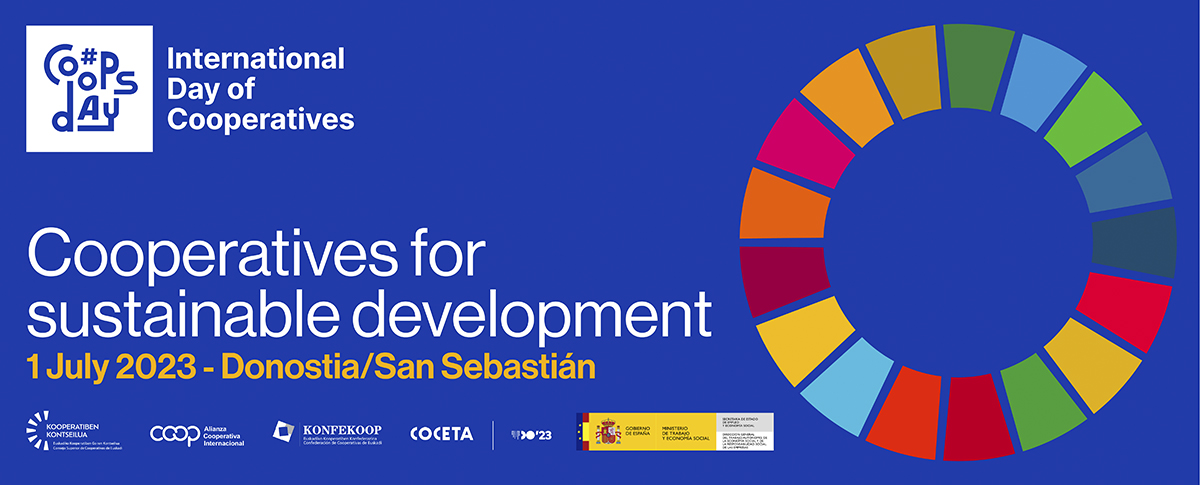 The International Conference 'Cooperative for Sustainable development' was held online on 1st July from Donostia (Spain).
Cooperators from all around the world discussed the relationship between the cooperative movement and each of the Sustainable Development Goals, from the first to the 17th. The format will be very dynamic and can be followed online in English, Spanish and Basque.
The cooperative way of working, inspired by the cooperative values and principles, has the accomplishment of the Sustainable Development Goals as part of its DNA
2023 celebration is the 101st International Cooperative Day,
the 29th International Day of Cooperatives recognized
by the United Nations
2023 #Coopsday Media Pack
How are you celebrating #CoopsDay?
Do you want to see your story
on the #CoopsDay map?
Elevate your identity
Cooperatives everywhere are working hard to build a better world, but they can't do it alone.
Through the .COOP domain and the COOP Marque, cooperatives around the world promote their cooperative identity, community values, and competitive distinction.
Tell the world that you put people first.
That you are ethical and fair.
That you're great to do business with.
Tell the world that you are a Cooperative.
Discover how cooperatives celebrate #CoopsDay worldwide!
Pictures from 2022 edition
Macroretz / Enercoop / Titi-Floris / Relais-Atlantique / Lieux-Communs —
FRANCE (2021 edition)